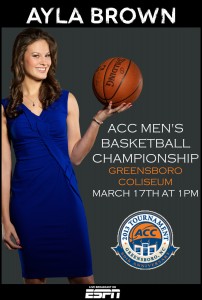 Former American Idol finalist AYLA BROWN to sing the National Anthem during the 2013 ACC Men's Basketball Championship on March 17th
Greensboro, NC – Former American Idol finalist, Ayla Brown, will sing the National Anthem during the 2013 ACC Men's Basketball Championship (broadcast LIVE on ESPN) on Sunday, March 17th, at 1 pm in Greensboro, North Carolina. Country music singer/songwriter Ayla Brown, whose new patriotic single "Pride of America" is available on iTunes now off her latest album Heroes and Hometowns, has opened for such leading country acts like Josh Turner, Darius Rucker, Charlie Daniels Band, Craig Morgan, and she will soon be opening for country music superstar Eric Church. She also recently performed the National Anthem at the 2013 Discover Orange Bowl, broadcast on ESPN.
Ayla has pursued a diverse range of endeavors over the span of the last six years that include being an American Idol finalist, recording artist of four albums, national and local performances, devoted philanthropic and charitable work, serving as a National Anthem singer for the Philadelphia 76ers, being a national news correspondent for The Early Show on CBS from February 2010-February 2012 and being an accomplished basketball player herself.
Ayla's basketball roots run deep, as she received a full scholarship to Boston College at the age of 15. She played NCAA Division 1 college basketball for the Boston College Eagles, member of the Atlantic Coast Conference (ACC), and was named ACC all-freshman team honorable mention. Other highlights from her basketball career include scoring 2,358 points in high school, being named the Gatorade Player of the Year twice in the state of Massachusetts, becoming the 6th leading scorer in Massachusetts basketball history, being recognized in Sports Illustrated, and now preparing to be inducted into the New England Basketball Hall of Fame this June.
The 2013 ACC Men's Basketball Tournament will be held at the Greensboro Coliseum March 14-17. For more information please visit http://www.theacc.com/championships/acc-mens-basketball-tournament.html?page=13-accmbb-faninfo.html
For more info on Ayla Brown, check out http://www.aylabrown.com/ or http://www.facebook.com/aylabrownmusic/

MEDIA CONTACT:
Hayley Frank
281-701-6900
Hayley@guestbooker.com