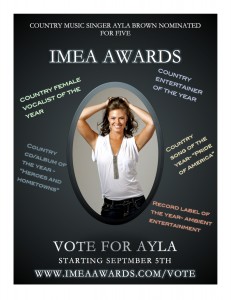 VOTE FOR AYLA IN THE IMEA AWARDS!
Ayla Brown has been nominated for FIVE International Music Entertainment Association awards and she needs your help to vote! All you have to do is go to www.IMEAAwards.com/vote and vote for Ayla in the following categories:
*Country Female Vocalist of the Year
*Country Entertainer of the Year
*Country CD/Album of the Year- "Heroes and Hometowns"
*Country Song of the Year- "Pride of America"
*Record Label of the Year- Ambient Entertainment
Everyone is able to vote once per device and voting is open until the beginning of November. Make your voice heard and help Ayla win her first ever IMEA Award!