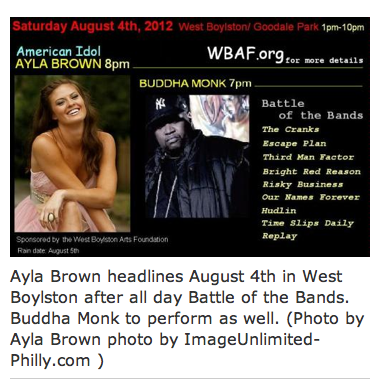 Rock Around the Clock
-Jay H. Givan's Blog
Ayla Brown and Buddha Monk will headline Saturday August 4th at West Boylston's Goodale Park as a part of the West Boylston Arts Foundation's YOUTHS ROCK! Battle of the Bands program.
Ayla Brown, an American Idol contestant & Nashville recording artist, is the daughter of Senator Scott Brown and former WCVB (channel 5) reporter Gail Huff. Her performance starts at 8pm.
You can view her tour schedule on her website. Her new CD is now available @ iTunes.
New York City's Buddha Monk will perform at 7pm. He has produced or helped produce affiliated groups of Wu-Tang Clan.
Last year, 2009 American Idol contestant Siobhan Magnus performed.
The all day event, 1pm – 10pm, is the WBAF's second annual Battle of the Bands. This year there will be nine under-21 bands competing for cash prizes of $100, $200, and $300, as well as a "Judges' Award" of 8 hours of recording time donated by Fontanez Recording Studio of Worcester.
Of the under-21 bands, last year's top three winners, based on audience voting, were Hudlin, Our Names Forever, and Time Slips Daily – with West Boylston residents Nick Perham and Tyler Supernor. They are returning this year to defend their titles against Berklee College High School battle of the bands winner Third Man Factor as well as other bands from the Worcester and Boston area – The Cranks, Escape Plan, Bright Red Reason, Risky Business, and Replay.
Ticket prices are $10 adult, $5 student, and under 12 is free. Check the WBAF website for more details. Rain date is August 5th.
According to WBAF president Mr. Mark Baldi, art vendors, novelties, fashion, and food will be available, as well as a dunk tank.
There will also be a 45 foot Delta Force inflatable obstacle course and a US Army Humvee.
For 5 or 10 bucks you can eat, play, and support West Boylston's art and music programs, topped off with seeing two celebrities perform.
Think of this. Regardless of who Ayla Brown is, think Carrie Underwood. Carrie Underwood was the American Idol winner in 2005, and, so far, has enjoyed a great career. You're not going to see her for $5 or $10 anytime soon.
If Brown becomes as big a star as Underwood, how great would it be to say you saw her for just a few bucks at the beginning of her career? Whether it was Linda Ronstadt at the Troubadour in Los Angeles or an unknown Rod Stewart at the Boston Tea Party in the late 1960's, getting a chance to see artists at the beginning of their career is an opportunity that only happens once.
And who knows, maybe one of the battling bands could be the next Who, Zeppelin, or Areosmith.
Here is a list of vendors:
US Army
Fontanez Recording Studio
Kurlan Music
Clay Dog Studio
Tastee Freeze
Mike's Vending
Zaza Ink
Thirty One Gifts
Fantasy Face 'n More
Roberta Enhus
Class of 2013
Exclusives
Kona Ice
Chevy Chase Vandals
Scentsy
Sea Glass Jewelry