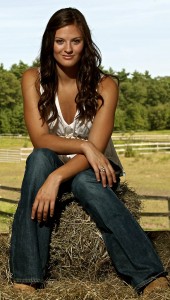 When Ayla Brown toured Afghanistan, the audience knew her name and her story. They stood shoulder to shoulder in the relentless heat and dust to hear her sing. The soldiers proved gracious hosts; one group used their downtime to prepare a special welcome for the country singer. Proudly, they shared a photograph of entertainment mogul Simon Cowell taped to a small explosive device, then handed Ayla the detonator. Kaboom.
There is a bemused tone to Ayla's voice as she tells this story; she confides that she never found Mr. Cowell intimidating. At six feet and seventeen years, the contestant towered over the American Idol judge and considered him a coach rather than an adversary. Her exit from the competition came too early, but Ayla remains grateful to the Idol machine. She credits her thirteenth place finish on the show's 5th season for creating opportunities that she could never have imagined.
While Ayla hopes that her talent show success will open doors in Nashville, it may be her work ethic and competitive spirit that set her apart from hundreds of other country music hopefuls. Unlike her fellow contestants, Ayla could not leverage her television fame at the end of the 2006 Idol season. Her NCAA commitment wouldn't allow it. A scholarship basketball player at Boston College, Ayla started most games during her senior season and graduated with a degree in communications. Only recently has she been able to devote her full attention to a career in music.
At a recent Boston seminar I watched Ayla put her college degree to good use. She was poised, confident and articulate as she described her music industry experience. She was succinct in her advice to aspiring singers: take every gig, sign every autograph, diversify and smile. Keep smiling.
Ayla herself has had good reason to beam during the last two years. She has been a special correspondent for the CBS Early Show, focusing on youth topics. One of her contributions was a story on "Songs of Love", an organization that provides personalized songs to children and teens who face serious medical challenges. Ayla is now a national spokesperson for the non profit and has written three songs for and about children in need.
There have been several high profile appearances, including an opening gig for Darius Rucker on Independence Day 2011, and a performance of the national anthem with the Boston Pops. It was the latter performance that led to Ayla's current job as the official anthem singer for the Philadelphia 76ers. At every home basketball game this season, Ayla provides a stirring live rendition of the national anthem against a recorded video of The Philadelphia Orchestra playing "The Star Spangled Banner". That's her job, the one that pays the bills and allows her to live in Nashville and pursue her passion for country music.
To read the rest of the article, and see more pictures and a video of Ayla click OnTapBlog.