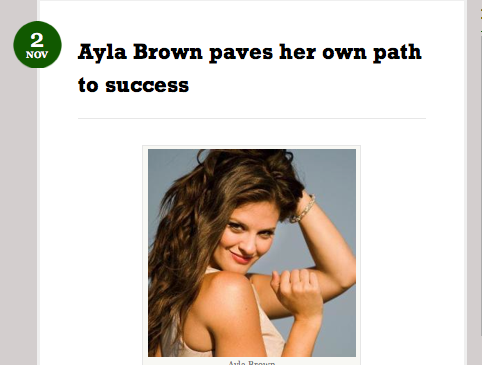 By JESSICA A. BOTELHO
From singing and writing music, placing among the Top 16 on season five ofAmerican Idol, serving as a correspondent for The Early Show on CBS, to being a former hotshot basketball player, Ayla Brown seems to excel at everything.
This summer, Brown also did a bit of acting, as she took part in the movie,Cowboy Spirit, playing the role of Molly. The full-length film premieres Nov. 29th at the Orpheum Theatre in Foxboro, Massachusetts.
In the past, she finished high school as one of the top female basketball players in Massachusetts' history, scoring 2,358 career points before playing for Boston College. She even found a way to combine singing and basketball, as last season she was asked to perform the National Anthem for the Philadelphia 76ers at every home game.
"It was such an honor, so I said yes," said Brown, who will again take on the duty this season. "They also wanted me to set up a merchandise table and sell CDs."
The problem, she said, was she was yet to record an album at that point. But that didn't stop her. As a result, she ended up forming her own record label, Ambient Entertainment, for which she's released the self-titled Ayla Brown in January.
"I kind of used it as a kick jump and motivator to put out an album – I didn't want to have to wait for any sort of big guns to get involved," Brown said. "It's super easy to start your own label and that's exactly what I did to make sure that I had content available at every game."
Brown is grateful for the experience. Founding her own label, she said, has given her more freedom and flexibility as an artist.
"I'm really, really lucky to have put together a CD on my own label because creatively I get to choose all the songs," she said. "I'm doing everything a major or a larger independent record would do. The only difference is that person is me, not someone else."
To read the rest of the article visit HERE