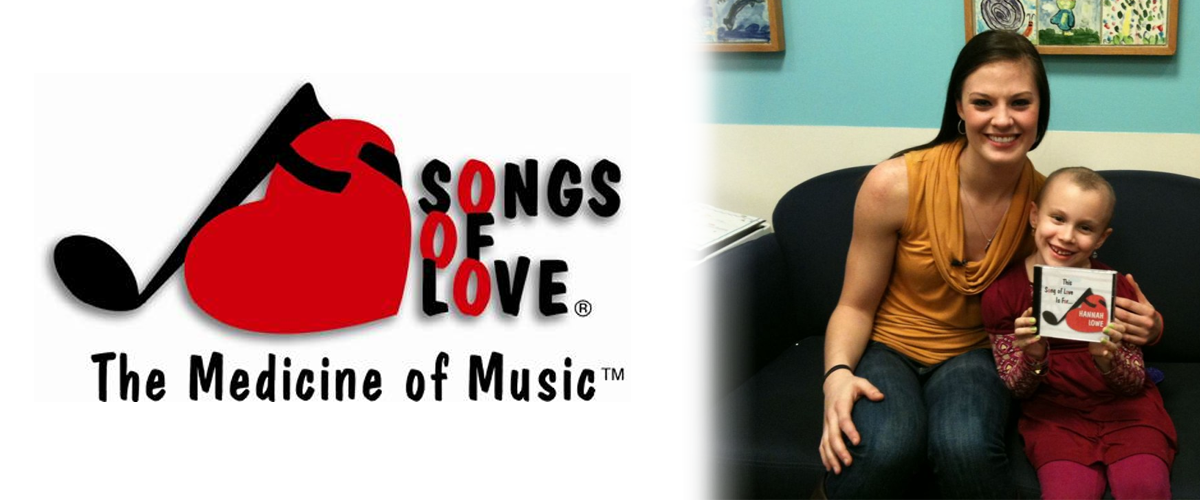 The Community Figure
Many of Ayla's appearances are for charitable causes including her performances in 2006 and 2010, at the opening ceremonies for the Pan-Mass Challenge. Her numerous contributions to various charities such as "Kickin' Cancer on the Common," "Buddy Walks," "Bella Rocks" and "Ben Speaks Louder than Words," reflect her commitment to charitable organizations.
In 2007, Brown participated in a photo shoot with Boston area celebrities including her parents and singer JoJo for the Massachusetts chapter of the Alzheimer's Association in which to raise awareness for the disease.
Ayla has appeared in concert at Fenway Park on multiple occasions to help the Boston Red Sox and the players with their charitable endeavors including "Life Is Good At Fenway", "Hot Stove, Cool Music," "Jimmy Fund" with WEEI radio, and the "Beckett Bowl." Ayla now offers her vocal talents and time to the organization "Songs of Love" where she is currently a spokesperson, as well as singing and recording songs for ill-stricken children. Ayla is currently featured on a billboard in New York City promoting "Songs of Love."
Ayla Brown is the Spokesperson for Non-Profit, Songs of Love!
[third]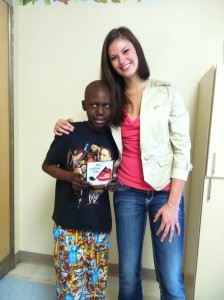 [/third]
[two_thirds]After covering a story on Songs of Love for the CBS Early Show as their part-time correspondent, Ayla Brown agreed to be a spokesperson for the Songs of Love Foundation to help bring more awareness and funding. During the segment, Ayla also recorded a "song of love" for 6-year-old Hannah Lowe. She recently recorded another "song of love" for Collin Lecey.[/two_thirds]
As the Spokesperson for Songs of Love, Ayla Brown has joined forces with WS Development and The Shoppes at Blackstone Valley in Millbury, MA to help raise funds and voices for The Songs of Love Foundation through the shopping center's Teen Correspondent program, an online silent auction slated for February 2012, and a very special event to celebrate Songs of Love in the summer of 2012 at The Shoppes at Blackstone Valley's Cinema de Lux theater. The silent auction will offer rare autographed memorabilia interesting items, and unique experiences and be accessible to all across the country. The April event will be hosted by Ayla Brown and feature an opportunity to record a Song of Love with both Ayla Brown and Bob McGrath of Sesame Street, live music, refreshments and much more.
About Songs of Love
[third]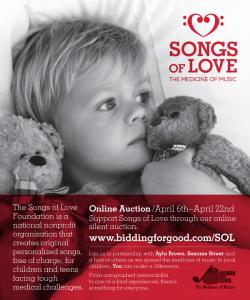 [/third]
[two_thirds]
The Songs of Love Foundation is a national nonprofit 501(c)(3) organization that creates free, personalized, original songs to uplift children and teens currently facing tough medical, physical or emotional challenges. Each CD is professionally produced with lyrics containing the child's name and references to all of his or her favorite activities, things, people, and pets. Songs are written and performed in any language in the musical style that the child likes best (pop, R&B, rap, rock, alternative, etc.), by a variety of talented professionals.
As each child is unique, so is every 'song of love' composition. Since 1996 the Songs of Love Foundation has reached out to over 22,500 children in over 500 hospitals and health care facilities in all 50 states. The songs have often been played to alleviate pain and trauma during painful and scary hospital treatments. The song recipients have played their "songs of love" in all kinds of situations and settings such as car trips to the hospital, show and tell at school, for family and friends in person or on the phone, and even for the doctors and nurses. The children have their "songs of love" always available to them whenever they are feeling down.
To find out more information about this wonderful organization please visit the Songs of Love website HERE
[/two_thirds]