SHORT BIO
Ayla Brown has pursued a diverse range of endeavors over the span of the last six years. Her achievements include; being an American Idol Semifinalist, recording artist of four albums, national and local performances, involvement in numerous charitable causes, National Anthem singer for the Philadelphia 76ers, and national news correspondent for The Early Show on CBS. From 2006-2010, Ayla was a NCAA Division 1 Student/Athlete and earned a Bachelor's Degree in Communications from Boston College. In January of 2012, Ayla released a self-titled country album. Her first release, "Goodbye for Good," stayed strong at #1 on CDbaby.com's Country Rock, Country Pop, and Overall Country charts for weeks, beating out artists such as Willie Nelson. All of the tracks were recorded at Ronnie's Place in Nashville, TN, studio of the legendary country star, Ronnie Milsap. The album was produced by Ayla and she also co-wrote seven out of the nine tracks on the CD. Currently, Ayla's self-titled CD is charting on the Billboard chart in the Northeast section of the United States. Ayla released a patriotic album titled, "Heroes and Hometowns" in November of 2012 and the physical CD is available on www.aylabrown.com. "Pride of America" is the first single off the album and is available on all digital retailers.
FULL BIO
The Performer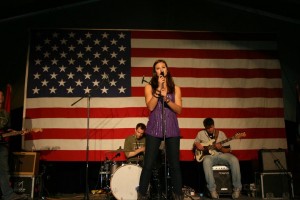 Brown embarked on her Idol journey in August 2005, after making it through the tryouts of 135,000 potential contestants for the national acclaimed television program American Idol. Ayla performed through to the week of the top 16 and finished with her head up high singing a reprise of "Unwritten" for the show's thirty million viewers one last time. Ayla grew up in the Boston area and has been fortunate to perform at many local functions, both big and small. Some of Ayla's most memorable performances include performing twice at Boston's Top 40 radio station Kiss 108 FM's annual Kiss Concert. Brown sang the title track from her album with a full accompaniment by the Boston Pops orchestra in front of an audience of fifteen thousand at the "Pops on the Heights" Scholarship Gala at Boston College. She performed songs from her first studio album, Forward, in a series of solo concerts at the Eastern States Exposition (or "Big E"). In addition, she has performed alongside veteran record producer, David Foster, at the "David Foster and Friends" tour, and country stars, Loretta Lynn and Darius Rucker. In 2011, she also partnered with Outback Steakhouse on their "Feeding Freedom" tour and did a two-week tour in Afghanistan, singing for America's finest troops.
Brown has come to be known as "The Anthem Girl," as she has sung "The Star-Spangled Banner" at dozens of events. In 2006, she sang the National Anthem with the Boston Pops at the 33rd Annual Boston Pops Fireworks Spectacular in front of a crowd of almost one million people. She has performed the Anthem for every Boston professional sports team and for the NCAA women's basketball league for the ACC tournament and the National Championship game. On July 4, 2010, Ayla performed the National Anthem with the Nashville Symphony Orchestra at the Let Freedom Sing concert.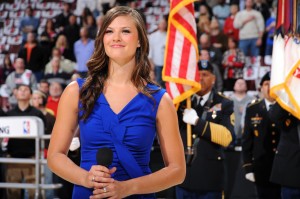 Ayla is currently the anthem performer for the Philadelphia 76ers. The 2012 season kicked off at the Wells Fargo Center on January 6th, and so far Ayla's luck as the anthem singer has brought a winning season for the Sixers.
The Recording Artist
Brown released her first studio album, Forward, on October 17, 2006. A review from the November/December 2006 issue of American Idol magazine states that "Ayla's voice soars through Diane Warren's ballad "If I Was a River" and shows us her chops and range match anything that's on the air today." Billboard magazine wrote: "An anthemic display of emotion, production, and power ballad triumph, with a chilling rafter-rousing bridge and chorus filled with inspiring lyrics; The beautiful 18 year old Brown is an artist AC has the opportunity to own."  "Forward" was also released to adult contemporary radio in April 2007, where it peaked at Number 10 on the format's FMQB airplay chart and Number 34 on the format's Mediabase airplay chart.Between 2009 and 2010, Ayla released two EP's titled, Ayla Brown Live! and Circles. Ayla co-wrote three tracks on Circlesincluding "No More," "I'm So Happy" and "Tonight."For the holiday season, Ayla contributed two Christmas tracks to the EMI American Christmas compilation album: "Grown-Up Christmas List" and "Breath of Heaven". The album was comprised of Christmas music by former Idol contestants and was released November 25, 2008.In 2012, Ayla finished her first country music album. In May, the full CD will be released on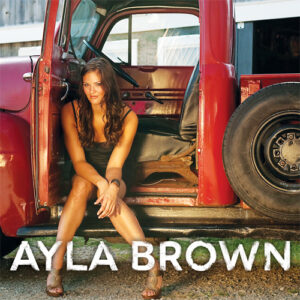 itunes and all other digital music distributers. Ayla's first release, "Goodbye for Good," stayed strong at #1 on CDbaby.com's Country Rock, Country Pop, and Overall Country charts (www.cdbaby.com/aylabrown) for weeks, beating out artists such as Willie Nelson. All of the tracks were recorded at Ronnie's Place in Nashville, TN, studio of the legendary country star, Ronnie Milsap.
The Athlete
A few months after American Idol ended, Ayla went on to pursue a collegiate basketball career at Boston College as a member of the Division I Eagles. Under NCAA Division 1 compliance rules, Ayla was unable to promote her music career for the four years she attended Boston College. Brown wrapped up her senior year with the Eagles in 2010. A solid contributor in both starting and supporting roles exemplified her desire for success, both as an individual as well as for the team. Ayla is a tenacious competitor with an appetite for success that will carry her winning and hard working attitude into the next chapter of her life.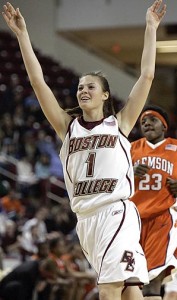 Prior to attending Boston College, Brown played basketball at the Noble & Greenough School in Dedham, MA, for four years. A two-time "Gatorade Player of the Year" award-winner, Brown became the 20th female in Massachusetts state history to score 2,000 points in a high school career while at Nobles, scoring a total of 2,358 points.
Ayla has been recognized for her basketball talents by Sports Illustrated magazine, as she was featured as the magazine's "Intern of the Week" in June 2008 for her wide array of activities in addition to her basketball skills. Additionally, she was featured on WCVB-5′s "High 5″ high school athlete of the week and has been profiled by New England Sports Network for its staple program SportsDesk.
The Actress
In 2008, Ayla starred as the narrator in the Reagle Players' production of the Andrew Lloyd Webber and Tim Rice masterpiece Joseph and the Amazing Technicolor Dreamcoat. Ayla performed in eight shows at the Robinson Theatre in Waltham, MA, alongside Broadway's Eric Kunze and a host of talented area actors.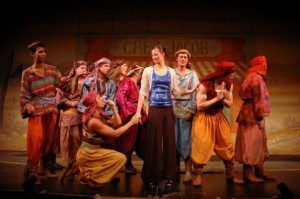 Brown received high praise for her acting debut, as TheaterMirror.com described her as being "beautiful and statuesque" and that she "has a fantastic soprano voice which soars in all her numbers including the Prologue, Poor Poor Joseph and Go, Go Joseph."
The Daily News Tribune voiced similar praise: "It's hard to take your eyes off Brown in this show. She's a beautiful, tall, willowy girl who has an appealing stage presence and a lovely way of exchanging glances and flirtations with other characters on the set."
The Community Figure
Many of Ayla's appearances are for charitable causes including her performances in 2006 and 2010, at the opening ceremonies for the Pan-Mass Challenge. Her numerous contributions to various charities such as "Kickin' Cancer on the Common," "Buddy Walks," "Bella Rocks" and "Ben Speaks Louder than Words," reflect her commitment to charitable organizations.
In 2007, Brown participated in a photo shoot with Boston area celebrities including her parents and singer JoJo for the Massachusetts chapter of the Alzheimer's Association in which to raise awareness for the disease.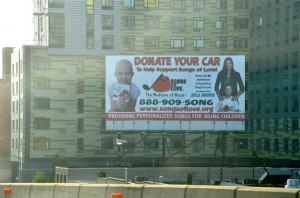 Ayla has appeared in concert at Fenway Park on multiple occasions to help the Boston Red Sox and the players with their charitable endeavors including "Life Is Good At Fenway", "Hot Stove, Cool Music," "Jimmy Fund" with WEEI radio, and the "Beckett Bowl." Ayla now offers her vocal talents and time to the organization "Songs of Love" where she is currently a spokesperson, as well as singing and recording songs for ill-stricken children. Ayla is currently featured on a billboard in New York City promoting "Songs of Love."
The Journalist
As a communications major at Boston College, Brown had opportunities to test her talents out in the field; most notably as an Idol correspondent for The Boston Herald newspaper in 2007 and 2008. In her weekly "Idol Thoughts" column, Ayla dished her opinions on the contestants' performances for the sixth and seventh seasons of the series.
She also tried her hand at being a radio host, as she filled in for Danny Ventura on MBR Radio's "Shales and Danny V. Talking High School Sports!" on August 9, 2008. Ayla talked about her time on Idol, her album and local sports, alongside Mike Shalin for the two-hour show.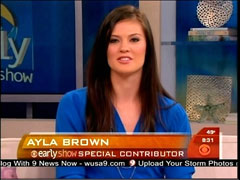 Upon graduation and free of NCAA athletics restrictions, Ayla began appearing regularly on the CBS Early Show as a correspondent. Ayla highlights stories close to the heart that have social and cultural impact as well as stories about music and the arts. These segments emphasize the importance and impact music and the arts can have on children and young people.
Most Recent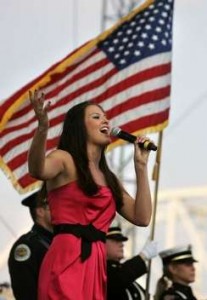 As of late, Ayla lives in Nashville. The atmosphere has turned her affinity for country music into a love for the area, music and culture. The Great American Country (GAC) channel hired Ayla to cover the Country Music Award's, conduct interviews with fans and country music artists for the 2010 country-fest in Nashville. In addition to what is currently being aired, many more appearances are expected on the GAC channel.
In June of 2011, Ayla had the opportunity to perform at three shows during CMA fest. That same summer, Ayla opened up for Darius Rucker on the 4th of July performing a forty minute set in front of thousands of fans and spectators.
Television Appearances
Numerous network television and radio programs have interviewed Ayla. Samples of the more notable appearances are:
- January 2010: Interview on The Early Show on CBS
- February 2010: Interview on The Joy Behar Show
- February 2010: Interview on ABC's "What's The Buzz"
- February 2010: Interview on Extra!
- February 2010: Interview on FOX News Channel's America Live with Megyn Kelly
- March 2010: Interview with Mark Ockerbloom on FOX 25 News
-March 2010: Interview and Performance on Fox29 in San Antonio
-March 2011: Interview on Back Talk Teen
-March 2012: Interview and performance with NBC10 Morning Show in Philadelphia
Notable Performances
-October 2009: David Foster and Friends Show in Boston
- June-October 2010: The Verizon / Polar beverages summer tour
- August 2010: Ayla's country music debut concert at the Regent Theatre
- August 2010: Opening act for Loretta Lynn's 50th Anniversary concert
-August 2010: Opening Act for Jason Aldean at the House of Blues Boston
-September 2010: Opening act for Smash Mouth
-June 2011: Three CMA Fest performances in Downtown Nashville
-July 2011: Opening at for Darius Rucker on July 4th down on the Riverfront in Nashville, TN
-September 2011: Opening up for Lonestar at Indian Ranch in Webster, MA
-September 2011: Headlining the Topsfield Fair in Topsfield, MA
-January 2012: Concourse and halftime shows at the Wells Fargo Center in Philadelphia, PA for the 76ers basketball games
-February 2012: Concourse and halftime shows at the Wells Fargo Center in Philadelphia, PA for the 76ers basketball games
-March 2012: Concourse and halftime shows at the Wells Fargo Center in Philadelphia, PA for the 76ers basketball games
-April 2012: Opening act for Josh Turner
-May 2012: Featured Performer to honor TN coach of the year, Pat Summitt
-June 2012: CMA Fest performances
-July 2012: Opening act for Josh Turner
-August 2012: National Anthem Performance at the Republican National Convention in Tampa, FL
-September 2012: Opening act for Darius Rucker in Hampton Beach, NH
-September 2012: Opening act for Diamond Rio in Delmar, MD