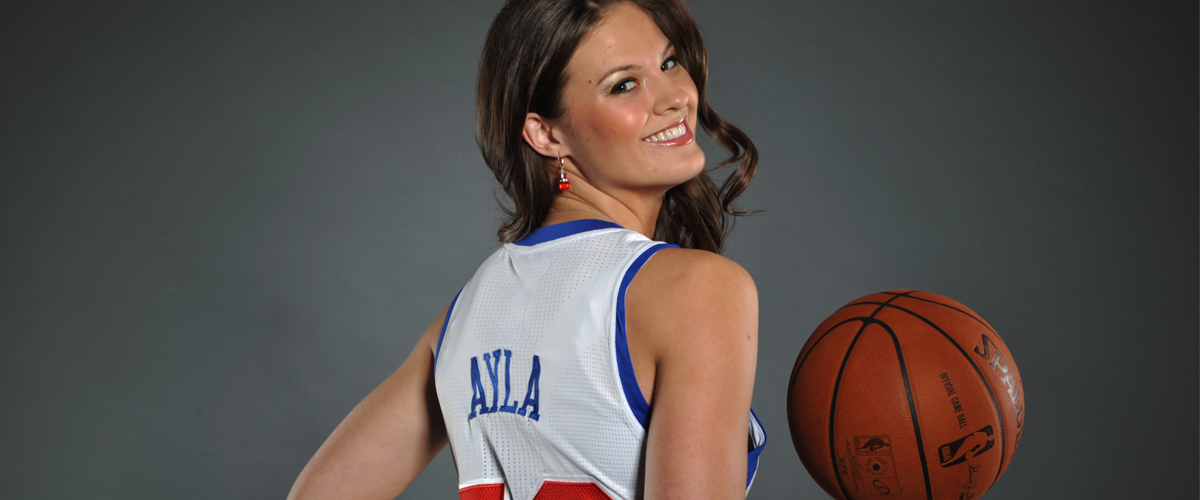 Ayla's Career at Boston College
A few months after American Idol ended, Ayla went on to pursue a collegiate basketball career at Boston College as a member of the Division I Eagles. Under NCAA Division 1 compliance rules, Ayla was unable to promote her music career. As a freshman, Brown made her first start on December 31, 2006. As a sophomore, Brown led the team to its first victory of the 2007-08 season, scoring her record high 21 points with 10 rebounds. The 21-12 Eagles went on to make the third round of the Women's National InvitationalTournament after failing to receive an invitation to the NCAA Championship tournament, where they were knocked out by St. John's. For the season, Brown totaled 240 points for a 7.3 ppg and a .390 percent field goal average
In her junior year, Brown finished the season as the team's fourth-leading scorer having played in 35 games, of which she started in 30. She averaged 24.5 minutes, 6.5 points and 4.5 rebounds a game. The Eagles ended the season at 23-12 overall after losing to Florida State in the second round of the ACC Tournament on March 6, 2009. Boston College went on to make the final round of the WNIT, where they lost to South Florida 82-65.
Brown wrapped up her senior year with the Eagles in 2010. A solid contributor in both starting and supporting roles exemplified her
desire for success, both as an individual as well as for the team. Ayla is a tenacious competitor with an appetite for success that will carry her winning and hard working attitude into the next chapter of her life.
Prior to attending Boston College, Brown played basketball at the Noble & Greenough School in Dedham, MA, for four years. A two-time "Gatorade Player of the Year" award-winner, Brown became the 20th female in Massachusetts state history to score 2,000 points in a high school career while at Nobles, scoring a total of 2,358 points.
Ayla has been recognized for her basketball talents by Sports Illustrated magazine, as she was featured as the magazine's "Intern of the Week" in June 2008 for her wide array of activities in addition to her basketball skills. Additionally, she was featured on WCVB-5′s "High 5″ high school athlete of the week and has been profiled by New England Sports Network for its staple program SportsDesk.
Boston College Bio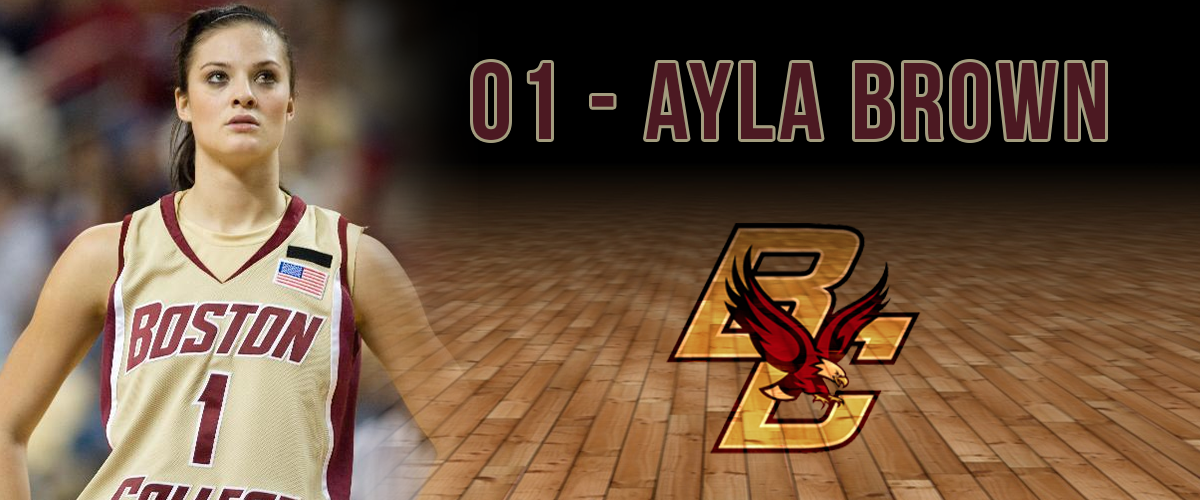 2009-10 (Senior)
Played in all 32 games this season, started 11 … Averaged 5.8 points and 5.0 rebound per game … Fourth on the team in steals (26), third in rebounds (5.0 rpg.), fourth in assists (5.0 apg.) and third in blocks (16) … Opened the season with 17 points against Harvard … Recorded 10 rebounds and eight points in a win over SMU on Nov. 28 … On Dec. 2, she recorded six points and 10 rebounds along with three steals in a win over Big 10 foe Iowa … Brown notched her third 10 rebound game vs. Michigan on Dec. 10 … In a win over California, Brown notched 10 points, five rebounds and had two steals on Dec. 28 … In the first ACC win of the season vs. NC State, Brown grabbed eight rebounds, had two assists, one steal along with seven points … Had six points, three assists and three rebounds in win over No. 21 Georgia Tech on Jan. 17 … Notched six points and three boards in the win over No. 6Duke on Feb. 4 … Scored six points and had two rebounds in win over No. 18/20 North Carolina on Feb. 11 … Grabbed 10 rebounds for the fourth time in the season in the win over Maryland on Feb. 25 … In the win over No. 8 FSU in the ACC Tournament, she had 11 points, seven rebounds and two assists … Led the team in rebounding seven times … Finished her career with 880 points, 667 rebounds and 124 steals … Sixth on the all-time rebound list (667) … 16th on the all-time assists list (245) … 13th on the all-time steals list (124) … First in overall games played with 128 … All-ACC Academic Team.
2008-09 (Junior)
Played in 35 games, started 30 … Averaged 24.5 minutes, 6.5 points and 4.5 rebounds a game … Finished the season as the teams fourth leading scorer, third in rebounding and third in assists … Scored in double figures nine times and recorded one double-double (vs. Houston, Dec. 20) … Opened the season with an eight point, six rebound performance against St. Francis on Nov. 14 … Notched six points and a season-high six assists against Holy Cross on Nov. 18 … Notched her season-high 16 points and grabbed seven boards in a win over Hofstra on Nov. 20 … At the Caribbean Challenge on Nov. 27 and 28, she had nine points and 10 rebounds in the victories over then N0. 24 ranked TCU and James Madison … At the St. John's-Chartwell Tournament, she opened up with a double-double (13 points, 10 rebounds) against Houston … At the Dartmouth Blue Sky Classic, Brown had 10 points, five assists and four rebounds against host Dartmouth … In the final against Fairfield on Dec. 20, Brown had six rebounds, two assists, two steals and four points … In the Eagles win over then No. 24 Georgia Tech, she had only two points but grabbed seven boards … Notched 10 points and had four assists in the win over Virginia Tech on Jan. 11 … Grabbed 12 rebounds in the loss to Wake Foreston Jan. 15 … Scored 11 points and grabbed six boards vs. Duke on Feb. 2 … In the win over Miami on Feb. 16, she had seven points and seven rebounds … Against North Carolina on Feb. 19, she had nine points, eight boards and a season high seven assists … Scored 11 points, added five boards and five assists in the first round win over Miami at the ACC Tournament on March 5 … In the second round game of the WNIT Tournament, she had six points and five boards against BU on March 23 … Had six points and six boards in the third round win over St. John's … Notched 11 points and grabbed eight boards in the fourth round victory over Georgetown … Averaged 6.5 points, 5.5 rebounds and 2.0 assists in the four WNIT games in March.
2007-08 (Sophomore)
Finished the season averaging 7.4 points and 5.6 rebounds … Started 31 of 33 games … Averaged 28.5 minutes a game … Was the third leading rebounder (183 rebs.) and leads the team in steals (42) … Recorded two double-doubles – vs. Massachusetts (13 pts., 10 rebounds) and vs. Miami (14 pts., 12 rebounds) … Led the team in rebounding six times … Reached double figures in scoring 11times and in rebounds four times …. Set a career-high in three-pointers made with 13 … Hit a career-high three in a game vs. Massachusetts on Nov. 14 … Led the team in rebounding in six games (Wright St., Massachusetts, Colgate, Wake Forest, Georgia Tech and Miami) … Set a career-high in assists in a single game with eight twice – vs. Northeastern, Dec. 31 and vs. UNH, Nov. 27 … In the ACC Tournament, Brown had 11 points and four rebounds in the Eagles first ACC Tournament victory over Virginia Tech on March 6 …. Helped the Eagles reach their 19th regular season win vs. Miami when she notched her second double-double of the season with 14 points, 12 rebounds.
2006-07 (Freshman)
Named to the ACC Honorable Mention Freshman Team … Played in 28 games, started 16 … Opened the season with a 14 points, eight rebound effort in win over Sacred Heart … Had 17 points and five rebounds in win over Delaware … Had 10 rebounds and eight points in win over Fairfield … In her first ACC game, she scored 12 points and had five rebounds in a loss to Florida St. … Had18 points, including 10-for-10 from the foul line, four assists, four steals and eight rebounds in a win over Clemson … Had a 13-point, nine-rebound effort vs. UNC … Notched seven points and a career-high 14 rebounds in the win over Wake Forest … Was the third leading scorer for the Eagles with an 8.1 average … Was second on the team in rebounds with a 6.5 average …. Led the team in steals with 31.
Before BC
The 2005 and 2006 Massachusetts Gatorade Player of the Year … 2005 ISL MVP … Four-time All-New England Prep … Two-time Boston Globe All-Scholastic … Was the 22nd female player in Massachusetts to score 2,000 high school points … Finished her career with 2,358 career points and 1,152 rebounds … Scored 40 points in a game by shooting 14-of-19 from the floor … Averaged 23.0 points, 16 rebounds and 5.8 assists game as Nobles went 23-4 … Also ran varsity cross-country for three years and was All New England and All-League … A member of the softball team for four seasons.
Personal
Born on July 28, 1988 … Ayla is the daughter of Scott and Gail Brown …Has one sister Arianna … Enrolled in the College of Arts & Sciences.
Brown's Career Highs
Points: 18 vs. Clemson (1-21-07)
FG made: 8 vs. Delaware (11/14/06)
FG attempted: 15 vs. Harvard (12/28/06)
3-pt. FG made: 3 at Massachusetts (11/14/07)
3-pt. FG att: 6 at Massachusetts (11/14/07)
FT made: 10 vs. Clemson (1/21/07)
FT attempted: 10 twice, most recent vs. Houston (12/20/08)
Off. Rebounds: 6 vs. Maryland (1/10/08)
Def. Rebounds: 10 vs. Miami (3/2/08)
Total Rebounds: 14 vs. Wake Forest (2/18/08 7)
Assists: 8 vs. two opponents, most recent vs. Northeastern (12/31/07)
Steals: 4 vs. three opponents, most recent vs. V-Tech (1/3/08)
Blocks: 3 at Massachusetts (11/14/07)
Minutes: 40 vs. Miami (3/2/08) & Clemson (1/21/07)