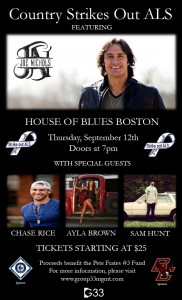 On September 12th get your cowboy boots and straw hats ready because Ayla Brown will join country music superstar, Joe Nichols, at the House of Blues in Boston for "Country Strikes out ALS!" Also taking the stage that night will be country newcomers, Chase Rice and Sam Hunt. The show starts at 7:00pm and to purchase tickets go to www.group33mgmt.com
Former Boston College baseball player, Pete Frates, was diagnosed with Amyotrophic Lateral Sclerosis (ALS), often referred to as "Lou Gehrig's Disease" in March 2012. ALS is a progressive neurodegenerative disease that affects nerve cells in the brain and the spinal cord. Over time motor neurons deteriorate which causes loss of muscle and eventually paralysis and death.
Prior to his diagnosis, Pete, a native of Beverly, MA, was the captain and centerfielder for the Boston College Baseball team from 2004-2007. He was a three sport athlete at St. John's Prep in Danvers (baseball, football, and hockey) as well as being an honor roll student.  Pete was one of the best teammates you could have on and off the field.  When he stepped on the field or ice, he was a fierce competitor who gave every ounce of effort he had but off the field, he had a warm and gentle heart.
Pete has been a true warrior and the definition of an inspiration battling this disease on a daily basis.  His efforts have generated quite the buzz in the Greater Boston for the ALS community.  There have been numerous articles in the Boston Globe, Herald, and local papers, sports specials on New England Sports Network (NESN) and PBS, and appearances at numerous ALS functions in Boston, New York and Washington, DC.  Pete also received the 2012 Stephen Heywood Patients Today Award which is presented to be a strong advocate for research and awareness as well as being a role model for patients today to find strength and determination to fight this disease each and every day.  Local sports teams like the Bruins, Celtics, and Red Sox have recognized Pete's efforts and honored him at games.  Some of the players have also taken a personal interest in supporting his cause.
While there no cure or treatment to halt or reverse the symptoms, there has been many strides in scientific research in understanding ALS as a disease.  This is our time to step up to the plate and help Pete Strike Out ALS.