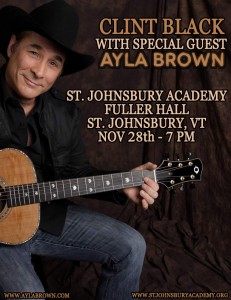 On November 28th, Ayla will open up for long time country music singer, Clint Black at St. Johnsbury Academy in Vermont! Clint Black has long been heralded as one of Country music's brightest stars. His many talents have taken him even further, as Black has transcended genres to become one of the most successful artists in all the music industry. To date, Black has written, recorded and released more than 100 songs, a benchmark in any artist's career. An astounding one-third of these songs eligible for major single release also achieved hit song status at Country radio, while more than 20 million of his albums have been sold worldwide.-www.clintblack.com
To date, Ayla has opened for artists such as Josh Turner, Darius Rucker, Loretta Lynn, Lonestar, Charlie Daniels, The Marshall Tucker Band, and more! This will be Ayla's first time opening for Clint Black.
Show starts at 7:00pm with a short set by Ayla, followed by Clint Black.