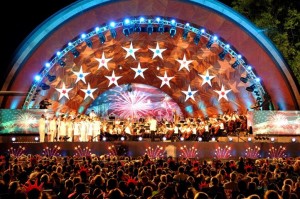 Eight years ago, Ayla Brown, had the chance to perform the Star Spangled Banner with the Boston Pops during the July 4th Spectacular on the Esplanade in Boston, MA. She was fresh off the show, America Idol, and this show was the biggest public performance she had ever had at the young age of seventeen. Fast forward to 2013, Ayla Brown is now getting the chance to perform with the legendary orchestra again!
This year, Ayla will join other Boston musicians: Susan Tedeschi, Howie Day, Ellis Hall, and Keith Lockhart to celebrate the national holiday. Brown will be singing three songs (two with the Pops). Those songs are "Hero in Her Hometown," written by Ayla Brown and Morry Trent, "Pride of America," written by Ayla Brown, Charlie Hutto, and Courtney Dashe, and "Free" written by Brett James and Hillary Lindsey. "Hero in Her Hometown" and "Pride of America" are both off of Ayla's Heroes and Hometowns album which can be purchased on the products page on her website. "Pride of America" can also be downloaded on iTunes.
"I am so honored to have the opportunity to perform with the Boston Pops again," said Ayla. "This is the first year (in many) that it's just Boston-based musicians, which is so important. With all of the bombings that happened during Marathon Monday, this is the perfect event to come out and show your support for the wonderful city of Boston. I grew up in Wrentham, I went to Boston College, I have ties in this community, and I'm so excited for this performance with the Pops!"
The show is free and will be broadcasted locally and regionally on WBZ-CBS. There will be two days of shows, July 3rd and July 4th. Come out and support Ayla and the other musicians!
For more information on the shows and musicians go to the July 4th website.