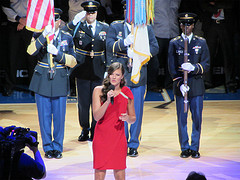 From Rittenhoused:
The Philadelphia 76ers new Chief Executive Officer Adam Aron wanted the national anthem to be something special, and not just a reason to skip the first few minutes of the game. So he hired former American Idol contestant Ayla Brown to do the singing.
Maybe it wasn't on par with "Ayla Brown, you're the next American Idol!" but hearing "Welcome to the NBA, Ayla Brown," instead is definitely a close second for the young singer.
These were the words spoken to Ayla Brown, 23, when the Philadelphia 76ers new Chief Executive Officer Adam Aron congratulated her on being hired as the new in-house national anthem singer for every home game of the 76ers.
Aron approached the young singer and stand-out collegiate basketball player after the new CEO heard a clip of her singing with the Boston Pops on YouTube over the summer. He was so impressed with Brown's voice he contacted her to fill a role similar to the one that Lauren Hart enjoys with the Philadelphia Flyers. Hart, the daughter of legendary Flyers announcer Gene Hart, has sung the national anthem before every home Flyers game since the 1997-1998 season.
"He (Aron) pitched the idea to me that he wanted the national anthem to be a really spectacular moment, not just something where people could afford to come to a game late and miss," Brown said. "He saw the arrangement I did with the Boston Pops orchestra, it sold him, and he wanted me to do something similar with the Philadelphia Orchestra."
Just like that, Brown found herself in the NBA. Brown sings the anthem before each 76ers home game, backed by a recording of the anthem by the Philadelphia Orchestra.
To read the article in its entirety, click here.